Treadfit is a rapidly growing fitness brand that provides small group customized workouts from certified trainers. Each class will improve your overall fitness levels using interval training on the treadmill, coupled with full-body strength training. At Treadfit, no class is ever the same!
The Workout: Treadfit's small group classes are the perfect combination of cardio and strength training. Under the guidance of experienced, certified instructors, clients will burn on average between 400-800 calories per class. Treadfit's workout will increase endurance and improve fat burning – resulting in a stronger, faster, and leaner you! Everyone is welcome at Treadfit: walkers, joggers and hardcore runners. Classes are open to all adults and teens, ages 18 and older.
PRICING
MEMBERSHIPS
Essential Starter
8 classes/month
Essential
12 classes/month
Basic Plus
20 classes/month
INSTRUCTORS
LAUREN RUTH
Lauren is the owner of Treadfit Shorewood, a sports performance specialist, and an ACE certified Group Fitness Instructor.  She participated in sports growing up, but it was not until 2008 when she was diagnosed with Type 1 Diabetes that exercise became an important aspect of her daily life.  She started as a client at Treadfit Beverly and soon after became an instructor at both the Beverly and Frankfort locations. Lauren is a full-time teacher outside of Treadfit and truly enjoys helping others became the best versions of themselves.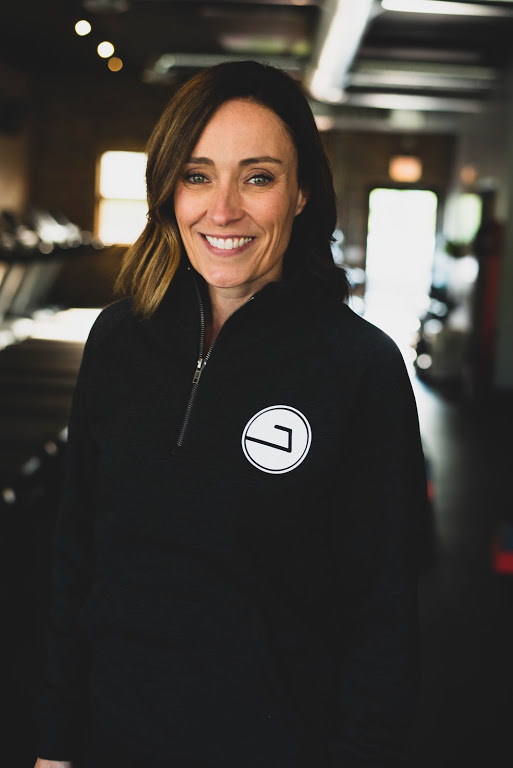 JENNY HARKINS
Jenny, an ACE certified group instructor and nutrition specialist, is the founder of Treadfit. After completing five marathons and several half marathons, she began experimenting with shorter bursts of high intensity running mixed with strength training. She saw dramatic improvements in her fitness level, and decided to leave distance running behind. Jenny brings her love of running and fitness to the unique format of Treadfit's workouts.
KIT ALVEAR-LASH
Kit has always had a love of fitness. In high school, she ran on the track team & in college, she began strength training. After having kids, she taught pre/postnatal Fit4Mom group fitness classes for 5 years & quickly found her biggest passion of helping people reach their fitness goals. Recently, she became an ACE certified personal trainer & is looking forward to inspire clients during their workouts.
Sara McGee
Sara has always had a passion for both fitness and teaching. She recently decided to combine the two and received her ACE Group Fitness Instructor certification. After working out at home for years, she tried out Treadfit last winter and quickly fell in love with the classes and the atmosphere. Healthy living and fitness help Sara stay on her toes with her two little ones at home. Sara loves helping others meet their goals and feel good about themselves. She brings infectious energy and dedication to every class! 
Treadfit Shorewood
Small group fitness classes that combine cardio and strength training for the perfect workout!
Lauren is the best instructor! I've only been working out at home for the past 2 1/2 years but she's been pushing hard and motivating me in class! This is not like a normal gym where you are in a "fish bowl"(iykyk) I think that's one of my FAVORITE parts is it's smaller and you receive more one on one help with the instructor!! GO TRY A CLASS TODAY! You will not regret it!

Lisa Esser


December 27, 2022

I have had a great time working out with Kit and Lauren. The five am classes are the best way to get your morning started!!!! Don't be scared because it's a treadmill workout. They focus on competing with yourself and not others. So whether you are an avid runner or just a walker Kit and Lauren can personalize the class for you and help you get stronger

Melissa Kristine


December 9, 2022

Absolutely loved my first class! The class was challenging in all the best ways possible! Kit was very motivating through all of the intervals! Will for sure be going back.

Hannah Midlock


November 17, 2022

I have not worked out in probably 6 or 7 years and saw some mutual friends trying out treadfit… so I finally decided to try the 7 day free trial and fell in love! I love being able to schedule my workouts ahead of time! The times are great for my schedule. I have only had the pleasure of having class with Kit & Lauren and both of them are so welcoming and great! Lauren really pushes me to do my best & Kit is great helping me with form and making sure I'm doing everything correctly! All the ladies I have shared class with are wonderful & I love what a welcoming environment i feel walking in.. can't wait to keep going!

Kristin Ali


February 11, 2023

Awesome class that combined cardio and strength training. Class was scaled to all abilities. The instructor Lauren was motivating and supportive. Looking forward to my next class.

Kathy Sullivan


November 12, 2022

I'm back at the gym and so happy. Treadfit is the perfect fit for me. I love the the teachers, the music, and most of all the workouts. I appreciate the instructors watching over you to keep your form correct.

Lorie Zanelli


February 11, 2023

I haven't worked out in such a long time so walking in I was so nervous. From the start, walking in was not intimidating at all and Lauren made me feel comfortable immediately! The workouts are hard but Lauren and Kit are awesome and encourage you to push yourself while also doing what you are comfortable with. This was the perfect place to get back into my fitness journey!

Sam Zwahlen


December 9, 2022

I haven't worked out in years and was super nervous to walk in. From the start I felt welcome, encouraged, and part of a team! The workouts are hard, but Lauren and Kit are awesome motivators! And the playlists are pretty fantastic too! I now look forward to working out!

Julie Shimkus Conterio


December 9, 2022

After a bad day at work, going to Treadfit wasn't something I wanted to do but I went and had a great workout!! Lauren does a great job motivating you to work your hardest! I continue to look forward to my workouts even on those bad days!

Andria Lyn


February 16, 2023

I love the workout I get from Treadfit. I always burn at least 400 calories. It has a good mix of cardio and strength, and the timed circuits give you a great variety of moves. Lauren does a wonderful job of explaining exactly what to expect, along with encouraging you to always push yourself. Plus, I like the music she plays!

Amanda Stiltner Henkaline


February 21, 2023

I am having so much fun at Treadfit! The workouts are always different and challenging. I love the small class size. I appreciate the early morning classes before going to work!

Tricia Loomis Oostema


December 6, 2022

I heard about Treadfit thru my run club. I like running but want to tone my body. so I did the 7 day trial and then bought the 10 class pass. I have tried the strength class and the treadfit class...I LOVE the treadfit class.....you get cardio and strength. you will walk away sore the first few classes...but it gets better....and it's a GOOD hurt!!! I like that the class is different everytime you go in!!

Nichole Gunty Zemaitis


February 2, 2023

In love with Treadfit Shorewood! These classes and this way of exercising is for literally, every level of fitness! Go as hard or slow as you need to, to fit your fitness needs and goals!! That's what I love about these classes!

Erica Gabel


December 20, 2022

I stepped out of my comfort zone and participated in a class yesterday. After 8 years of no working out, there were times during the workout I thought I may die lol. The Beauty of this work out is you are encouraged to go as hard as you can but reminded you know your limits. That was extremely helpful knowing no one was going to scream and yell because I wasn't moving fast enough. Today, it hurts to sit, my arms hurt lifting my purse and when I stand up I look I could be 90 yrs old 😀 I will be back. Highly recommend....no pain, no gain.

Paula Rae Donoho


November 14, 2022

If you want a workout that hits everything you need in just 50 minutes, this is it! It's cardio and strength in a fun, motivating environment!

Megan Melvin Janssen


February 15, 2023

I love the environment at Treadfit Shorewood. It's so welcoming and not competitive. The only person you compete with is yourself and I love how everyone can push themselves at their own pace. The trainers are encouraging and I love their energy. I'm so glad I found this place!

Robyn Spizzirri


February 2, 2023

Absolutely LOVE every single class I have taken at Treadfit Shorewood. Each class is different and I always burn over 500 calories! Today alone I am at 716 calories burned! Lauren really does a fantastic job instructing us and she also pushes us to the next level! So glad I decided to take the plunge and try Treadfit Shorewood out!

Karissa D'Amico


December 17, 2022

The 50 minute class was wonderful, working both cardio and strength. Lauren's coaching was just what I needed, encouraging me to do my best, but not too pushy.

Janet Ruth


April 22, 2023

This place is awesome! It's been a while since I have worked out, so I was pretty out of shape. I was able to tailor the class to my abilities and get a great workout. The instructors are so motivating and helpful. The classes are never the same which makes the time go by so fast. I can't recommend Treadfit enough!!

Jennifer Helling Kobus


February 9, 2023

Treadfit is a great full body workout for anyone ! The class has options to meet you where you are in your fitness journey and it has options to push you towards your goals. I love the variety and the enthusiasm of the instructors. I look forward to my class time each week. Thanks to Lauren and Kailee for pushing me!

Jennifer Warwick Craig


February 28, 2023